Dynamic Daylilies
Regular price
$200.00 CAD
Regular price
Sale price
$200.00 CAD
Unit price
per
Sale
Sold out
Share
((Apollo's Fire X Stunning in the Sun) X Gigaflutter) X (Gigaflutter X Paula Burgener)

6 inch flowers on a 24 inch stalk, and 35 - 50 buds that bloom from mid July to early August. Semi-Evergreen, very hardy in our northern climate. Very fertile both with pod and pollen. Produces kids with high bud counts and brilliant colors.

Dr. Ramon Barnes has been a friend and major influence in the world of ICP spectroscopy for most of my career. He has been one of the most significant persons developing today's main method of inorganic analysis used in laboratories around the world today. The ICP Spectrometer is a huge advancement on their predecessor spectrometers using Arc/Spark sampling sources. The older instruments required the equivalent of a PhD to be able to operate them, and a lot of effort per sample to get a good analysis. The ICP spectrometer uses a high temperature plasma-induced flame to burn samples at 10,000 degrees C, and provides a stable, rapid method of analysis.
I began working on ICP instruments in 1977 and developed the world's first commercial whole rock analysis, which was a major step forward in commercial laboratory use of the instruments. The instruments at the time were difficult to run and used computers ancient compared to today. Over a period of 13 years, from 1977 to 1990, my company worked on the development of the methods. Many others also were involved with the development of new instruments, new methods, and new computer systems to provide the modern elegant instruments in use today. Dr. Barnes taught chemistry and ICP spectrometry and was editor of the ICP newsletter to keep everyone informed. He also started and ran the annual ICP Winter Conference, which brought together those involved in the development of the new technology. I learned much from him and the conferences and the conferences have been my major form of advertising my Burgener Nebulizers. Today, my main company is Burgener Research Inc., which produces the world's best nebulizers for introduction of samples into ICP spectrometers. It also provides the main source of funding to run Dynamic Daylilies.

Ramon has mentored many PhD students, vastly improved the technology and led to significant advances in the technology which touches the lives of everyone today.

The Daylily named in his honor is similar in nature. It is probably one of the most significant advancements in Canadian daylily hybridizing. I believe that it and its kids will influence all daylilies in the future. It has produced 35 to 50 buds per stalk, and divides out rapidly, so a single fan this year will often be 4 to 5 fans next year. With 50 buds per stalk, I have used its pollen and seed pods extensively. Last summer I had 400 of its seedlings blooming for their first year. Of the 400, 29 had 30+ buds, 10 had 40+ buds including ones with 48, 51, 58 and 62 buds! Compare this to the normal Ontario Hybrid of 15 - 20 buds. And consider that usually a first summer of boom is much less vigorous than the second or third. Then add in the feature that 8 of those kids (including one of the 50+ buds) re-bloomed in 2019 and you have a near perfect daylily.
View full details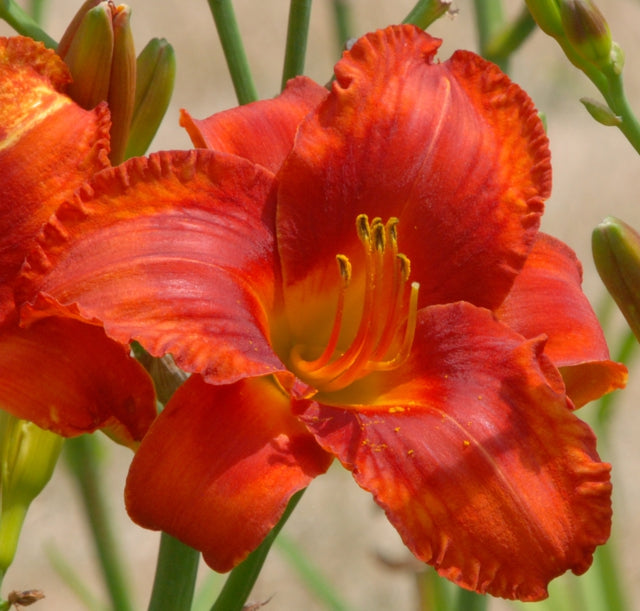 Free Shipping On Any Domestic Orders over $250
$35 Express Shipping Anywhere In Canada

Contact Us for International Shipping Prices